The Advantages of Staying in an Executive Suite
Ever think about how many people stroll in and out of your hotel room on a daily bases? Propping the door to your room open and working around your things; checking your mini bar, cleaning around your tooth brush, and straightening your papers and electronics to make your room look presentable upon your return at the end of your busy day.
On the flip side consider the advantages to truly private accommodations during your next out of town business contract. These days there is much to be said on the subject of privacy and security. Particularly while on business it is nice to be able to know that you can confidently leave your belongings as they are and that they will not be touched or casually perused. While you might not be in the habit of leaving delicate information lying around, isn't it nice to know that you need not give it a second thought while staying at an Executive Suite?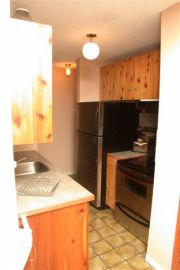 Executive Suites support your waist-line. That's right. These days of fast food and having to navigate through restaurant menus for healthier choices can often leave us open to temptation. When enjoying your stay at this Mount Royal Executive Suite, you can rest easy knowing that you can fill your full-sized fridge with many of the familiar foods of home. Made exactly your way!
If it's something on the barbeque you would really enjoy - a steak or fresh roasted veggies, then you'll definitely want to take advantage of the full balcony and complimentary BBQ.
And don't forget about that bottle of wine that you really want to enjoy with dinner. Forget expensive mini-bar charges.
Don't feel like cooking? No problem! You still CAN eat out. Choose from a wide selection of restaurants that deliver or stretch your legs and enjoy a 2 block walk to some of Calgary's finest restaurants.
For weekly commuters, struggle no more; The convenience of leaving your belongings behind is a real luxury. Why lug such things back and forth each week? Save your back! Travel freely and arrive home for the weekend refreshed.
While the advantages of choosing an Executive Suite might not have initially been considered, these days in this fast paced business world it is nice to be able to rely on the certain comforts and security that Executive Suites provide:
Preferred room rates over hotel accommodations
No rushed check out
Spacious suite with kitchen and balcony
Complimentary coffee makers in-room
Free local calls
Free high speed internet connection
TV, VCR, Stereo, and CD Player
Free parking
Iron and ironing boards in suite
Hair dryer
Free use of private sauna
Streamlined check-in
Optional express check-out
No charge for accompanying spouse and children over 14
Even though most hotels do offer long-stay rates these days, they are far shadowed by the cost savings and added convenience of staying in an Executive Suite.
Staying for a really long time? Tempted to just rent an apartment? Well, now you have to find furniture, buy dry goods, deal with phone and utility hookups - all the headaches of moving cities and orientating with the ways of the new city - things that everyone can do without. And when it's time to leave again, what are you going to do with all your extra cutlery, crockery, bedding and whatnot?
With an Executive Suite, all these services, furniture, and dry goods, are all there ready and waiting for you; and they're happy to remain behind when you leave again. Most Suites will even give you extra long-term stay incentives so be sure to ask.
Calgary Executive Suite
Your Home Away From Home.
To View or Reserve now call 403-809-6848
or email info@calgaryexecutivesuite.com